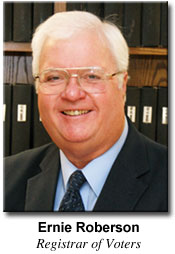 Ernie Roberson has been Registrar of Voters for Caddo Parish since 1990. He is a lifelong resident of Shreveport and a graduate of Fair Park High School and Louisiana Tech University. Prior to becoming Registrar, he served as District Manager for the 1980 Census in most of North Louisiana and was a public school teacher in Caddo Parish. He also served on staff for both Congressman Buddy Roemer and Congressman Jim McCrery.
Ernie is Louisiana's first nationally certified Registrar of Voters. Fewer than one percent of all election administrators in America have obtained national certification.
Ernie is the only Registrar of Voters from the Deep South selected to serve on two national task forces on elections (2001 and 2005) comprised wholly of election administrators from throughout America. The purpose of the task force was to present possible solutions for technical voter issues. The Help America Vote Act uses the recommendations of the national task force and specifically used two Louisiana election practices for a model nationwide.
He chaired the Registrar's committee that recommended the new touch screen voting machines to be used in Louisiana during early voting. He has also chaired numerous committees for the Registrar of Voters Association, including the committee that recommended to the Legislature the most stringent standards for Louisiana Registrars to become certified election administrators. At the time of its adoption, it was the only such program in the country. Previously, he chaired the committees that recommended continuing education for Registrars and also a professional standards committee for Registrars.
Caddo Parish is the only parish in Louisiana to utilize community groups to aid the Registrar's office on election day to help voters locate their correct polling place through internet access. The "Where Do I Vote?" program first started in Caddo in 2006.
Louisiana's latest step toward more access in voting which allows voters who are 65 years old or older and voters who are handicapped to vote by mail came from recommendations made by Ernie in his work with legislators and election administrators. This legislation was sponsored by Senator Lydia Jackson of Caddo Parish and passed the Louisiana Legislature in 2007.
In 2006 he became the first Louisiana Registrar ever invited to testify before the Election Assistance Commission in Washington, D.C. concerning the effect of community and advocacy groups in voter registration and his proposed plan for emergency procedures for Presidential elections.
Ernie also served as a speaker and panel member at the National Conference of State Legislatures, where he discussed the influence of the Help America Vote Act.